MISSING: Help Us Find Dean Kelly Morrison
Attention all Kamloops residents, your search assistance is requested to find Dean Kelly Morrison. 
BCSI has opened its own investigation and has actively begun reviewing and gathering information on Dean Kelly Morrison, whom is alleged to have disappeared on or about October 22, 2013.  Dean was last seen at his place of work at Stump Lake Ranch, which is located on 8165 Old Kamloops Rd, Highway 5A in Kamloops, BC.
Dean was reported missing on October 28, 2013, to local RCMP after approximately five days of not contacting any family or friends.  Dean was 44 years old, approximately 5'5" tall, approximately 150 lbs, with brown hair and blue eyes at the time of his disappearance.  Dean was last seen waiting for a tow truck to come pick up his vehicle, where he left all of his possessions after having his position at the ranch terminated.
The tow truck was called at approximately 0930 hrs, and arrived on site at approximately 1300 hrs, leaving a 3.5 hour gap where Dean went missing.
Dean's family remains hopeful that a piece of information or a person will step forward and shine some light on this disappearance.  It is possible that due to high stress levels Dean decided to leave his problems and go into hiding.
The Morrison family as well as our firm are asking the public's assistance in this matter, and if you have any information, please come forward.  You may remain anonymous, and any information provided will remain completely confidential.  If you would like to be a part of the search taking place on a date that is yet to be determined, you can contact us via phone at 604-922-6572 or by email at info@picanada.ca, or by using the contact form below.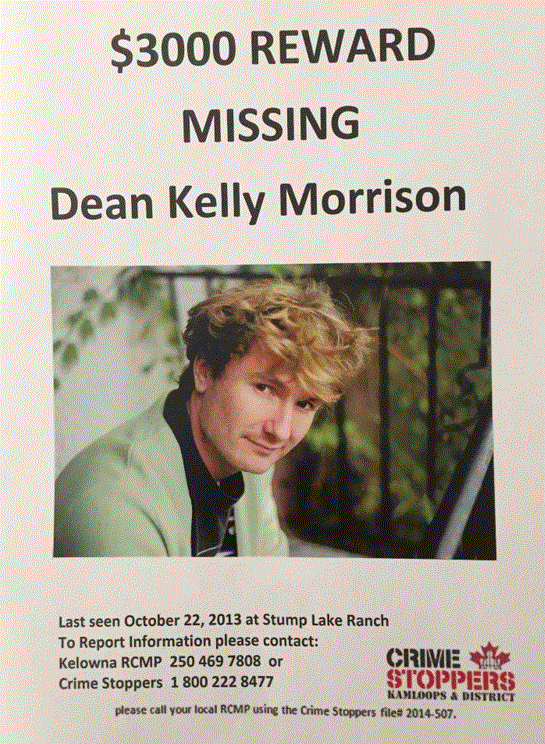 Contact Form